THE CHRISTIAN WAR AGAINST GAYS FROM YESTERDAY TO TODAY
2000 YEARS OF MURDER, VIOLENCE AND HATE
From the beginning of recorded history raw, crude sexuality was celebrated for the powerful life force that it is. Gay sexuality was also celebrated. Sparta's mighty warriors openly fucked other men. Women such as the great Greek poet, Sappho, openly celebrated their love for fucking other women.
The ancients saw sexuality as connected to fertility and nature. Among some Native American tribes, 'two spirits' were individuals who acted and dressed like the opposite gender - these people were revered as shamans. In China and Japan there is a large variety of artwork dating back to thousands of years that documents same sex love. In Rome, all the emperors in the Caesar line took male lovers, except for Claudius. In most places, homosexuality was a normal part of life.
Unfortunately, in 395, a once obscure religious cult seized power in the world's most powerful nation, the Roman Empire. It unleashed the most massive campaign of religious mass murder and persecution in history.
This totalitarian nightmare was not a chance event. It carried out very specific commands from the Christian's "Holy Book", the Bible. The Bible very specifically called for the destruction of all competing religions. It also called for the mass murder of all gay people.
In legal codes of Europe and America being gay became illegal. Here in America legal bans against gay sex were only repealed in the last 20 years.
Unfortunately, rising levels of tolerance are being confronted by new wave of persecution of gays. The Christian conquest of Africa, for example, unleashed a total reign of mass murder and terror against gay people. This remains to this day, and now some western evangelicals are actually succeeding in expanding a new holy war against gay people.
Here are some facts that readers neeed to know.
---
BIBLE AND CHRISTIAN QUOTES MANDATING THE MASS MURDER AND PERSECUTION OF GAY PEOPLE
THE DEATH PENALTY FOR HOMOSEXUALITY
"If a man lies with a man as one lies with a woman, both of them have done what is detestable. They must be put to death." Leviticus 20:13
THE BIBLE DEFINING HOMOSEXAULITY AS SHAMEFUL
"Because of this, God gave them over to shameful lusts. Even their women exchanged natural relations for unnatural ones. In the same way the men also abandoned natural relations with women and were inflamed with lust for one another. Men committed indecent acts with other men, and received in themselves the due penalty for their perversion. Furthermore, since they did not think it worthwhile to retain the knowledge of God, he gave them over to a depraved mind, to do what ought not to be done." Romans 1:26-28
" Sacred Scripture, which presents homosexual acts as acts of grave depravity." (Catechism of Catholic Church 2357)
"Examples of unnatural sexual acts include oral sexual acts, anal sexual acts, and manipulative sexual acts (i.e. masturbation of self or of another). All unnatural sexual acts are intrinsically evil and always gravely immoral "
Questions and Answers on Catholic Marital Sexual Ethics by Ronald L. Conte Jr.)
"Oral and anal intercourse were often punished by more years of penance than for premeditated murder." (Wikipedia) "Catholic teachings on sexual morality")
---
MODERN CHURCH LEADERS FUEL HATRED AND VIOLENCE AGAINST GAYS
Below are quotes from some major voices from the American Christian Right. These are not fringe figures. These are mainstream speakers in the Christian conservative establishment. Jerry Falwell founded Liberty University, Pat Robertson's 700 Club is the longest running television program in broadcast history (running since 1966), and Franklin Graham is the President of Samaritan's Purse, a major international Christian relief organization. These men have influence in the Christian community and the things that they say have an impact. Saying, for example, that "AIDs is God's punishment for a society that tolerates homosexuals," is most certainly going to fuel the flames of gay hatred.
FRANKLIN GRAHAM (America's leading evangelist)
"Of course we love them" [the gays and lesbians] "but we should love them enough to warn them that if they don't repent and turn from their sin...they will spend eternity in hell." - Franklin Graham
PAT ROBERTSON ON THE 700 CLUB:
"[Homosexuals] want to come into churches and disrupt church services and throw blood all around and try to give people AIDS and spit in the face of ministers." --Pat Robertson on the 700 Club, January 18, 1995 - People for the American Way
"When lawlessness is abroad in the land, the same thing will happen here that happened in Nazi Germany. Many of those people involved in Adolph Hitler were Satanists. Many of them were homosexuals. The two things seem to go together."
JERRY FALWELL:
"AIDS is not just God's punishment for homosexuals; it is God's punishment for the society that tolerates homosexuals." Jerry Falwell
"Homosexuality is Satan's diabolical attack upon the family that will not only have a corrupting influence upon our next generation, but it will also bring down the wrath of God upon America."
---
THE PERSECUTION AGAINST GAYS IS VERY MUCH ALIVE IN TODAY'S WORLD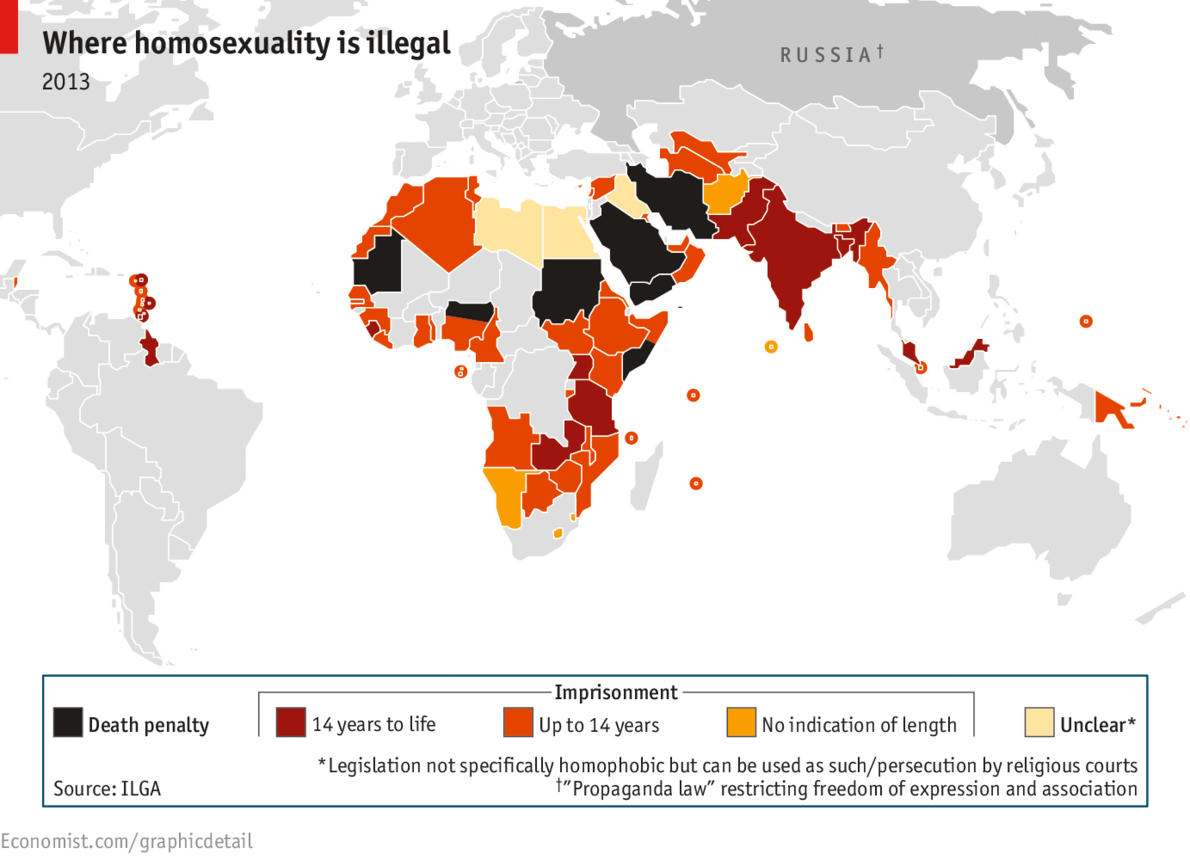 As we mentioned earlier, Biblical law calls for the death of all gay people: "If a man lies with a man as one lies with a woman, both of them have done what is detestable. They must be put to death." Leviticus 20:13
Even though this is a law that was written in the Bronze Ages, it is still being applied in some parts of Africa today (as you can see in the map above).
Radicalization of violence and hatred towards homosexuals is only getting worse in Africa. Today it is outlawed in 41 out of 53 African Common Wealth countries. In Sudan and Somalia, one can receive the death penalty for homosexuality. Law makers tried to pass a "Kill the Gays" bill in Uganda as well, but the act was eventually changed to life in prison. Gays are also increasingly under fire in Nigeria. Same sex unions are punished by 14 years in prison.
Lawmakers in Nigeria are calling gays "Un-African" and state that homosexuality is a decadent import from the west.
Yet the ultimate irony is that many of the anti-gay laws are a Western Import. Some of the existing anti-gay laws are even a remnant of European Colonialism. The laws were designed to punish what the British authorities saw as unnatural sex among the natives. Even today, much of the political push towards anti-gay laws in Uganda have received massive funding from Christian Evangelicals in America. A documentary published by The New York Times highlights how money from American Missionaries is funding some very dangerous ideology that demonizes members of the LGBT community (Gospels of Intolerance). According to Mother Jones, Uganda has been a hotbed of activity for Evangelicals who have failed to demonize the Gays in their own country (Mother Jones).
Also, much of the laws that punish homosexuality with death are in the Muslim north. So the Abrahamic religions in general seem to be influential in encouraging violence towards sexual minorities.
Yet before European Imperialism in the continent, there was a varying degree of gay acceptance in Africa depending on the tribe and culture. It is important to remember that there are numerous tribes and cultures in Africa, so we can't lump them all together as if they were one big country.
The Shangaan of southern Africa referred to same-sex relations as "inkotshane" (male-wife). Basotho women in present-day Lesotho engage in socially sanctioned erotic relationships called "motsoalle" (special friend) and in the Wolof language, spoken in Senegal, homosexual men are known as "gor-digen" (men-women). We're not going to list and go into detail about every tradition, but the point is that there are several different customs in which forms of same sex relationships were sanctioned and practiced.
But now the tide of homophobia in Africa is leading to the death and brutal oppression of homosexuals.
---
RELATED ARTICLES:
---
GAY SEXUALITY HAS LONG BEEN ACCEPTED
History of Homosexuality (Wikipedia)
Homosexuality is not un-African (Aljazeera, 4-26-15)
21 varieties of traditional African homosexuality (76 Crimes, 1-30-14)
AMERICAN RELIGIOUS INFLUENCE ON THE "KILL THE GAYS" BILL
The Uganda Anti-Gay Bill's U.S. Roots
Americans' Role Seen in Uganda Anti-Gay Push
How (White) American Evangelicals Fund Anti-Gay Hate and Violence in Africa
New Links Show How U.S. Christian Right Exports Gay Hate to Uganda
Christian Right is Losing on Marriage but Taking the Gay Hate Battle to Africa
Sundance Film Exposes How U.S. Pastors Fund Uganda Gay Hate
American Evangelical Lou Engle Promotes 'Kill the Gays Bill' at Sunday's Rally in Uganda
HATE CRIMES OF UGANDAN CITIZENS AGAINST GAYS
Uganda Gay Rights Activist David Kato Killed
Lesbian Dies After Being Deported By United Kingdom Back to Uganda
Ugandan Tabloid Publishes New 'Gay List'
INTERNATIONAL REACTIONS TO UGANDA'S GAY HATRED
Activists Protest 'Kill the Gays' Bill Outside Ugandan Embassy
Toronto Protests Uganda's Anti-Gay Bill
Uganda: Londoners Protest Anti-Gay Bill
UK University Cuts Ties With Uganda Over Anti-Gay Law
FROM A UGANDAN POINT OF VIEW
Living Proudly in Face of Uganda's Anti-Gay Bill
---
NATURAL IDEAS ON SEX VS SICK IDEAS
As Christianity collapses, people will begin to celebrate sexuality as a positive, natural part of life
RELIGIOUS OPPRESSION OF WOMEN
Troubling Bible Quotes about Women
The bible has a plan for women, and it is this: shut up and learn to love your chains.
A TROUBLING HISTORY OF CHRISTIAN PERSECUTION
The wave of terror unleashed since Rome's conversion to Christianity in 395 A.D.
Troubling Quotes from the Bible
More troubling quotes.
This is a fictional photo essay about how a pagan goddess might react to the sick and oppressive sexual ideas of today's Christian world.
She would unleash her power to bring the world back to a natural state.
She would break the chains of oppression over the gay people of the world.