WATAIN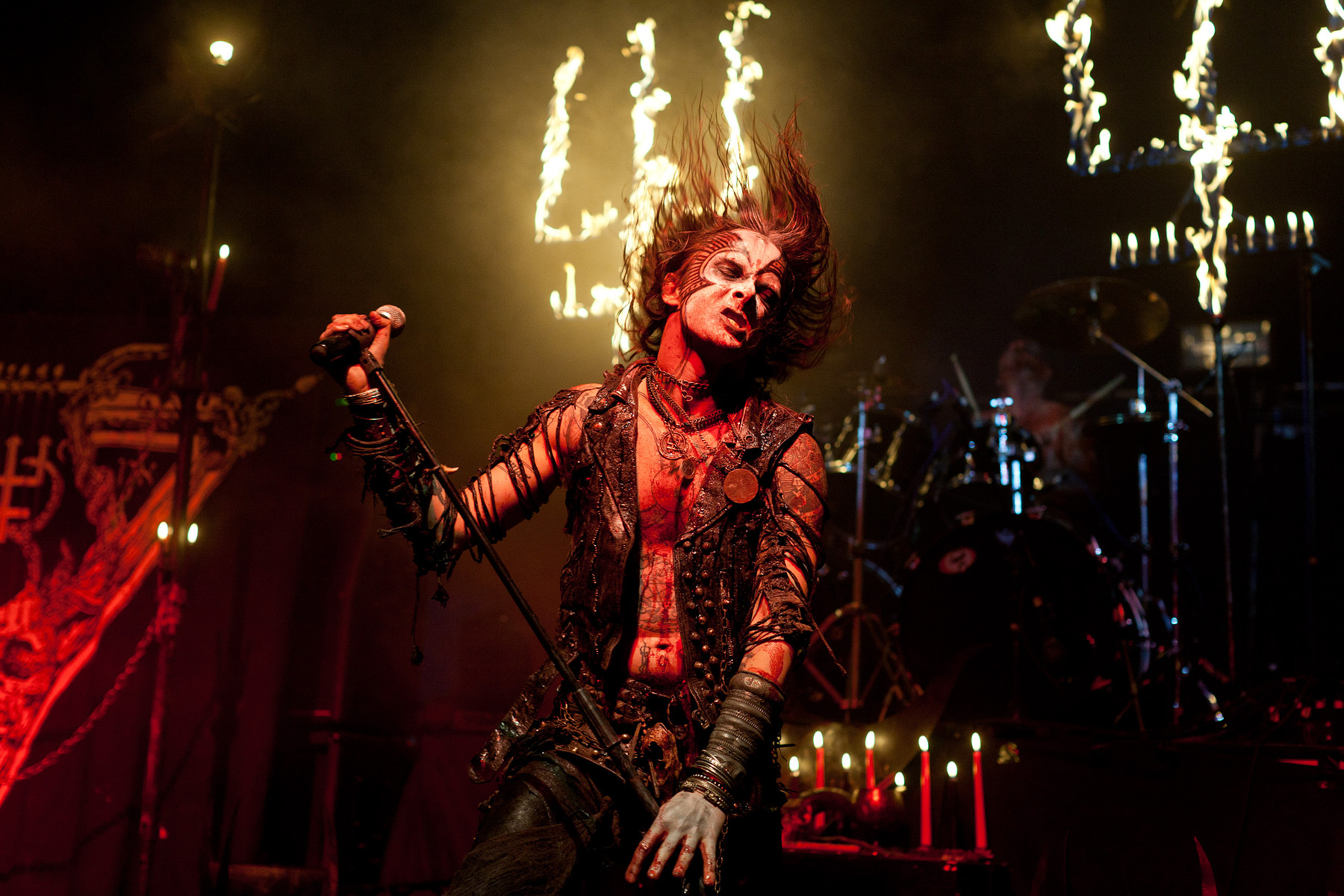 "This wicked child lay in shallow crowded graves."

" This unholy place is where the black sacrifices are performed. Here is where He kills… Watain." ~ Von
---
BAND LINE UP 
OF THE BROTHERS OF BLOOD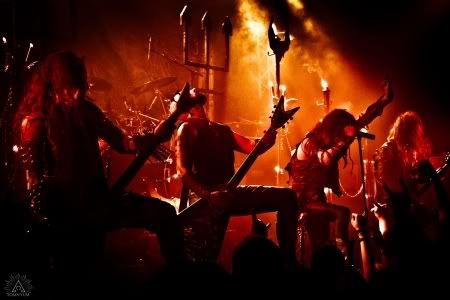 Erik Danielsson - Vocals, Bass
Håkan Jonsson - Drums
Pelle Forsberg - Guitar
Davide Totaro - Guitar (live only)
Alvaro Lillo - Bass (live only)


---
SWORN TO THE DARK
Watain does not shy away from their inner darkness, but embraces it openly. In an
interview
, they describe their belief as Satanism in its purest form.
"I'm writing about open graves and the flames of the altar that rises up before you; these are the things that I've experienced. I would be a hypocrite if I wrote about anything else; it's a reflection about how we live and how we're going to die. Watain exists out of a yearning to create music in honor of the heart of black metal, the dark side if you want to put a simple name on it. For us, who are the spawn of that dark side, it's like a patriot who feels the great need to write songs for his mother country. My heart is filled with the passion to try to channel the great and incredible things I have become a part of in my life. To me, it's simple and pure. I do it out of love (Dansielsson)."
---
ENTERING THE LAWLESS DARKNESS
DISCOGRAPHY ART
Lawless Darkness
- The title of the Album is said by E. Danielsson to "symbolize the unbound chaotic potential of that which is void of light. The light that defines; the light that shapes and restricts; the light by which the forces of law and order uphold their reign. In the absence of that light lies the wellspring of Watain: in Lawless Darkness. With this album and in all our efforts with Watain we aim to capture the hungry madness and glimmering purity of darkness beyond illusion, the void that holds all yet where naught is manifest, the primordial tomb into which all the vanity of man and his creation shall collapse: Indeed, the Lawless Darkness!" He then goes into say that this album "shall be seen as a monument erected in honor of that collapse and a dedication to all those brave souls, who have willingly dared to venture the winding paths towards it."
---
A BIOGRAPHICAL ACCOUNT
FROM ESSENCE OF BLACK PURITY TO OPUS DIABOLI
Watain is a black metal band that spawned from Uppsala, Sweden in 1998. Within the following year, they released their first official EP, The Essence of Black Purity, under the Swedish label Grim Rune Productions, in Necromorbus Studios. In 2000, after a deal for two full length albums with French black metal label Drakkar Productions, the debut album Rabid Death's Curse was released. This was then followed by Watain touring and performing with bands such as: Antaeus, Dark Funeral, Malign, and Rotting Christ.

In 2003, studio recording of Casus Luciferi took place, this was part two of their full-length album deal with Drakkar Productions. This album actually features lyrics by members of other bands, like Funeral Mist and Antaeus. After conquering the studio recordings, they rampaged across Europe for the "Stellar Dimension Infernal Tour," performing alongside Secrets of the Moon and Averse Sefira. And in 2004, they accompanied Dissection on the "Rebirth of Dissection Tour" performing in 18 countries.

In 2006, after a gig during the Party.San Open Air festivals the members of Watain did the Hitler salute while wearing the Nationalist Socialist black metal band shirt, Absurd after a gig in during the Party. San Open Air festival. When asked in an interview by Metal.de, Erik Danielsson said that it was merely seen by the members of Watain as a joke.

Released in Europe on February 21, 2007 was their third full-length album Sworn to the Dark. This was followed by Watain touring Europe with Celtic Frost, Kreator, and Legion of the Damned. And in 2008, Watain played their first headline tour in North America alongside Withered and Book of Black Earth. Eclipse Eternal and Kronosfear also accompanied them for some shows as well.

Lawless Darkness was released on June 7, 2010. The DVD, Opus Diaboli was released in 2012.
---